SCOTLAND: The Land of the Gaels
The name Scotland comes is derived from the Latin name for the Gaels – a linguistic group native to Scotland and other countries and regions in the United Kingdom. Alba, the Scots name for Scotland is derived from the Celtic name, Albion.
Travelers to this popular tourist destination are captivated by its rich and stunning landscapes, 1200 medieval castles and historic houses, Gaelic language, nearly 300 Scottish clans, tartan, unsurpassed and world recognized golf courses, and Scotch Whisky. Scotland's folklore evokes images of mythical creatures, beasts and serpents Common tourist and historical attractions Scotland also include almost 130 whisky distilleries and 587 golf courses.
Country Profile
Scotland is the second largest country in the United Kingdom and comprises about 33% of its total land area. It shares its southern border with England with the remainder of Scotland being surrounded by water including the North Sea, Irish Seas and the Atlantic Ocean. The country has 6170 (10,000km) miles of coastline. From north to south (vertical measurement), Scotland is about 280 miles in length and between 25 and 150 miles in width.
The country is comprised of 4 archipelagos (Hebrides, Orkney, Shetland, and Faroe Islands) and well as 796 islands with Lewis and Harris, Shetland, Orkney, and Skye the most populous of the ten largest islands. Many of hundreds of Scotland's islands are either uninhabited or have a population of less than 200 residents with 125 islands inhabited.
The head of the Scottish Government is the First Minister and the country is represented in the United Kingdom and European Parliament and a member of the British-Irish Council. Scotland has limited self-government and is represented in the House of Lords by Scottish Members of Parliament. The country is divided into 32 limited, self-governing council areas (administrative subdivisions).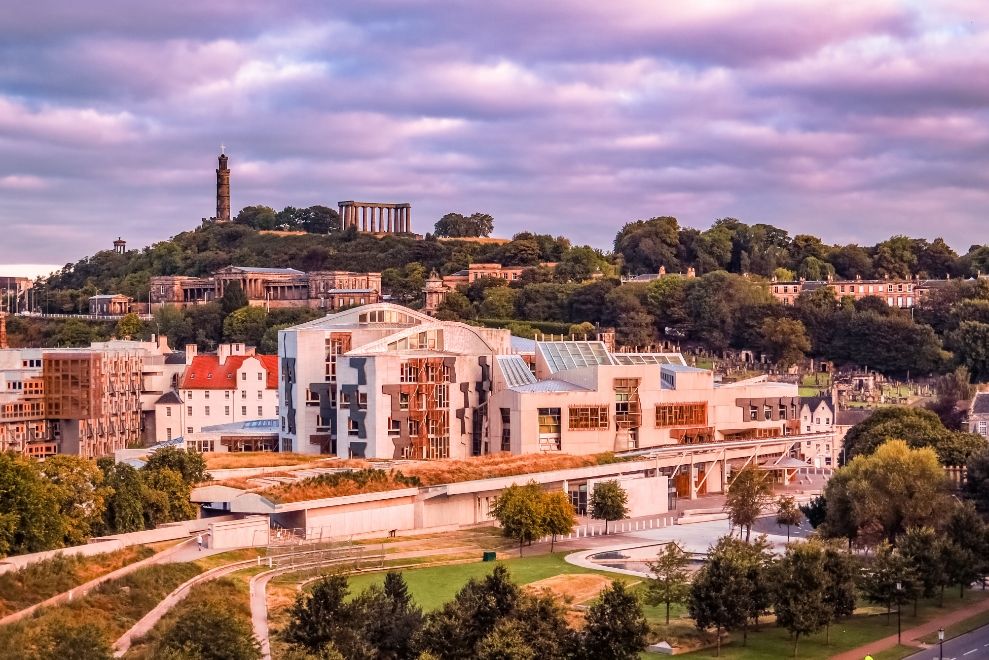 Below is our country profile containing facts and information to familiarize you with Scotland.
Common English Country name: Scotland
Official Name: Scotland
Formation: Devolution (1998), Union with England (1707)
Historical Nicknames: The Kingdom of Scotland, Scoti, Alba (the Scottish Gaelic name)
Country Motto: "In My Defens God Me Defend" ("In my Defense God Me Defend")
Government: Devolved Parliamentary Legislature
Capital: Edinburgh
Largest City (Population): Glasgow
Select Cities: Glasgow (largest), Aberdeen, Dundee, Paisley, East Kilbride
Points of interest: Edinburgh, the Highlands, Glencoe, Shetland Islands, Isle of Sky
Nationality: Scottish (preferable) or British
Religion: Church of Scotland, Roman Catholic
Population: 5,500,000 (2018)
Life expectancy: 77 years for males and 81 years for females
Primary ethnicity: White
Languages: English. Scottish Gaelic and Scots are officially recognized as regional languages.
National Anthem: Various national Anthems exist but "Flower of Scotland" is most common
Area: 78,000 Km² (30,000 mi²)
National Symbols: Thistle and its blue flag with Saltire (Saint Andrew's Cross)
Average temperature: 51°F (11 °C)
Climate: Cool and Wet. July is the hottest month (11 °C), January is the coldest (4 °C)
Highest elevation: Ben Nevis, elevation of 1,345 m (4,413 ft)
Longest River: River Tay, length of 188 km (117 miles) long
Deepest Lake (Loch): Loch Morar, depth of 309 metres (1,014 ft)
Largest Lake: Loch Lomond (25 miles/40km in length)
Location: United Kingdom, in Europe
Calling code: +44 (same as England)
Coordinates: GPS- 56° 29′ 26.416″ N 4° 12′ 9.525″ W (Center-point)
Currency: Pound Sterling (GBP; £)
Driving side: right
Time zone: Greenwich Mean Time (UTC); Summer Day Light Savings Time (DST) is UTC + 1
Internet TLD: .scot (which is commonly known as a Geo top-level domain); otherwise ".uk"
Scotland Travel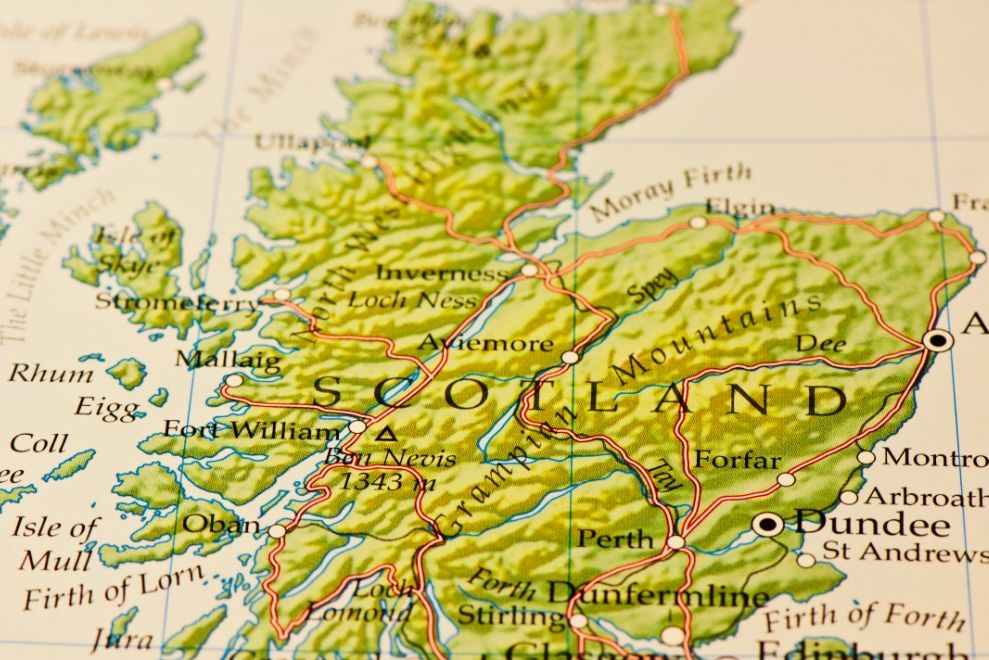 What currency is used in Scotland?
Scotland's official currency is the Pound Sterling which is common represented by the symbols (GBP; £). If you are visiting Scotland from the United States, then type "USD to GBP" in your browser for the current exchange rate.
Where should I visit when in Scotland?
Scotland is known for its hundreds of iconic castles and is referred to as the "Home of Golf" with its world famous golf courses hosting the Ryder Cup, the British Open, and the PGA European Tour. While in Scotland consider visiting one of its National Parks or nature reserves or partake on a tour of the hundreds of historic churches and museums. For those interested in distillery tours be sure to explore the Scottish Whisky Trail.
When is the best time of year to travel to Scotland?
The temperature usually fluctuates between 3–7 °C (37–44 °F) and 15–17 °C (59–63 °F) but the weather can be very unpredictable. Many travel experts recommend planning your trip either in the springtime (between the months of March and May) or visiting Scotland in the autumn (September through mid-November). Summers are warm although rain showers are quite common but most notably in the North. Snow is common in the Highlands during the winter months. Be sure to bring the appropriate clothing and plan accordingly.
What are some of the "must see" destinations in Scotland?
Scotland has a diverse and fascinating attractions. From off the beaten path tours to exploring the countryside and cites you will find the Scottish countryside dotted with quaint towns, beautiful landscapes and historical treasures. In between its rugged coastline and snow-capped mountains, we recommend that you consider visiting Cairngorms National Part, the Isle of Sky, the and Trossachs National Park.
How expensive is Scotland?
Youth hostels and rooms are plentiful with season prices ranging between USD$20 and USD50 a night. Mid-range hotels in the larger cities such as Edinburgh and Glasgow can cost upwards of USD225 to $450 a night. Be sure that your budget accounts for meals, ground transportation, entrance fees, and entertainment which can cost $100 a day per person. Transportation, day tours, and rental car costs will vary based on your travel itinerary.
Do I need a visa to visit Scotland?
Depending on your citizenship and country of origin, a visa and other travel documentation may be required to visit or study in Scotland. At present, no visa is currently required if you are British (or a part of the United Kingdom (UK) or if you are from within the EU. However, with the heightened possibility of the UK leaving the EU (Brexit) travelers from other countries should need to check with UK immigration.
Is Scotland a Country?
There is not a clear-cut answer. Scotland has a limited, self-government but is part of the United Kingdom which retains partial control over some of Scotland's internal matters such as social security, defense, international relations and limited matters of taxation. The Scottish Government is headed by a First Minster who serves as the political leader of Scotland and is appointed by the Monarch. Scotland's future status will be determined once the United Kingdom's withdrawal ("Brexit") from the European Union Brexit has been concluded.