Ninety-eight years ago today, on 26th September 1915, my Great Uncle David Elder Robertson wrote the letter below to his parents back in Musselburgh.
P1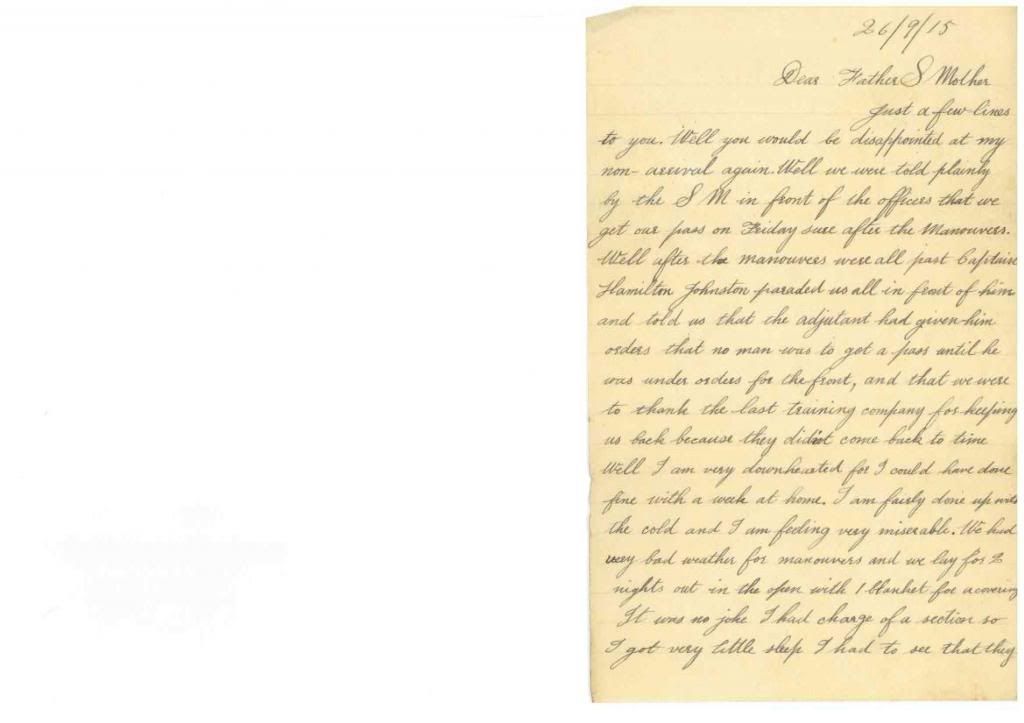 P2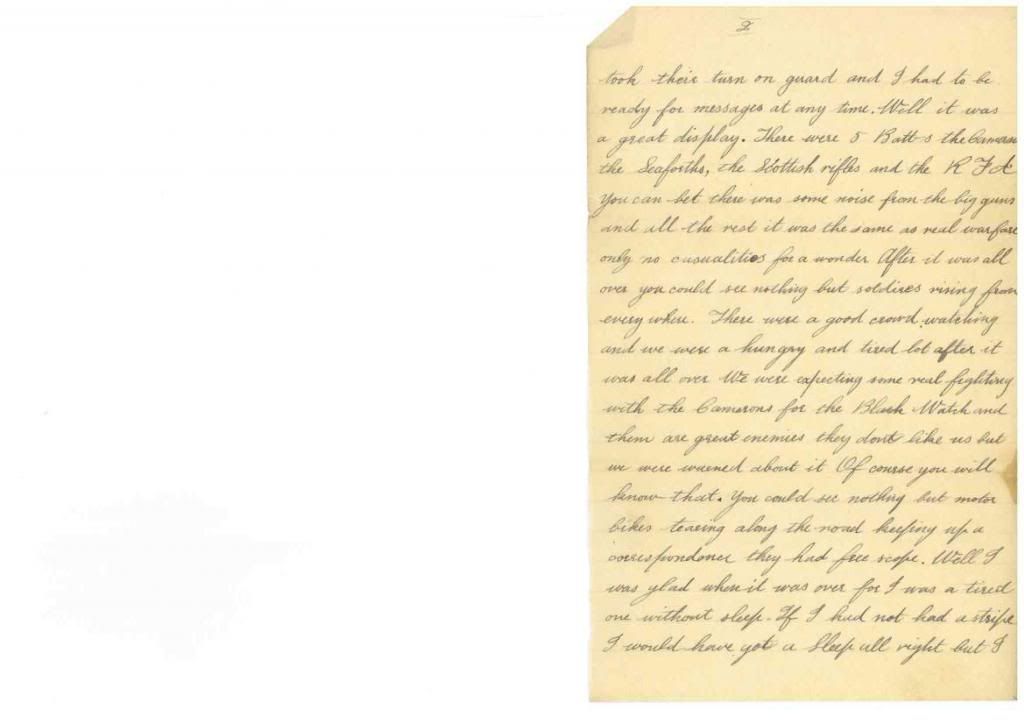 P3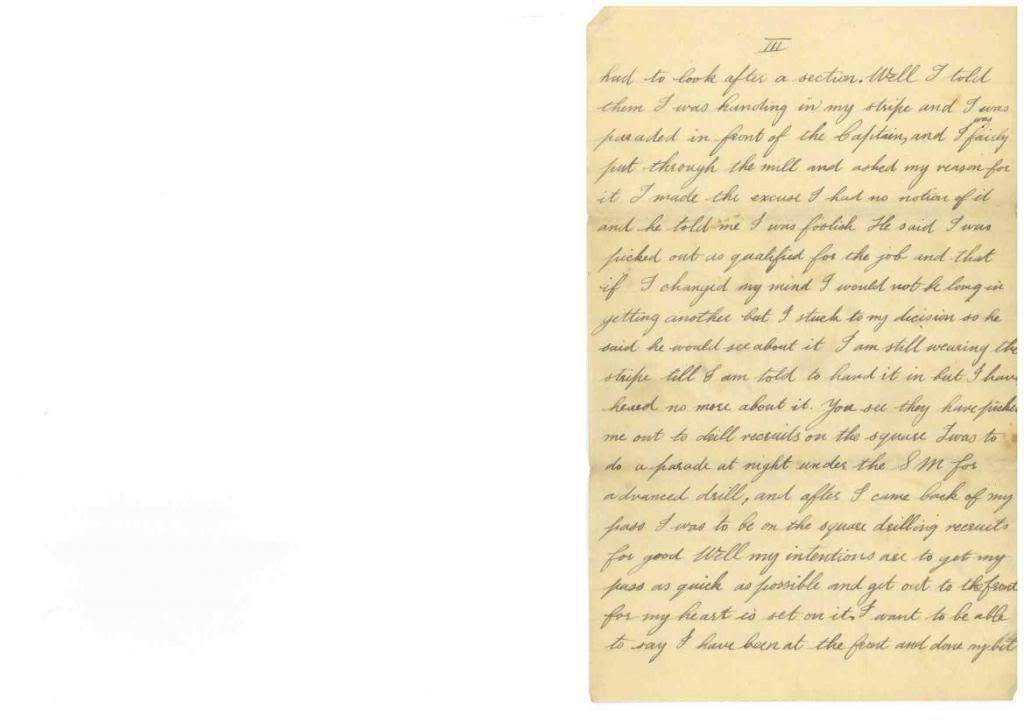 He was penning this neat letter from his training camp in England. On 2nd June 1915, David volunteered at Musselburgh Town Hall, aged 25 years and 10 days. Unlike his brother –in-law (my maternal Grandfather), who had joined the local Royal Scots territorial battalion in December 1914, David joined a Kitchener volunteer battalion, the 8th Btn Royal Highlanders (Black Watch), becoming S/9365, Private Robertson D.E. The 8th BW were part of K1, Kitchener's "first hundred-thousand" of six volunteer divisions raised in August 1914 for war-service. The 8th BW was the senior battalion and regiment in 9th (Scottish) Division of K1, which also made it the senior battalion in all of Kitchener's 30 divisions. The 9th Scottish was based around Aldershot for training, with 8th BW based in St Lucia Barracks, Bordon Camp. On 10th May 1915, 9th Scottish Division was the first Kitchener division to leave the UK for the Western Front, to take its place in the British line and get used to trench conditions. The battalions of 9th Scottish each left behind a detachment to form a training company for incoming recruits as replacements for casualties. When David joined up on 2nd June 1915, he was soon on his way to the 8th BW training company at Bordon.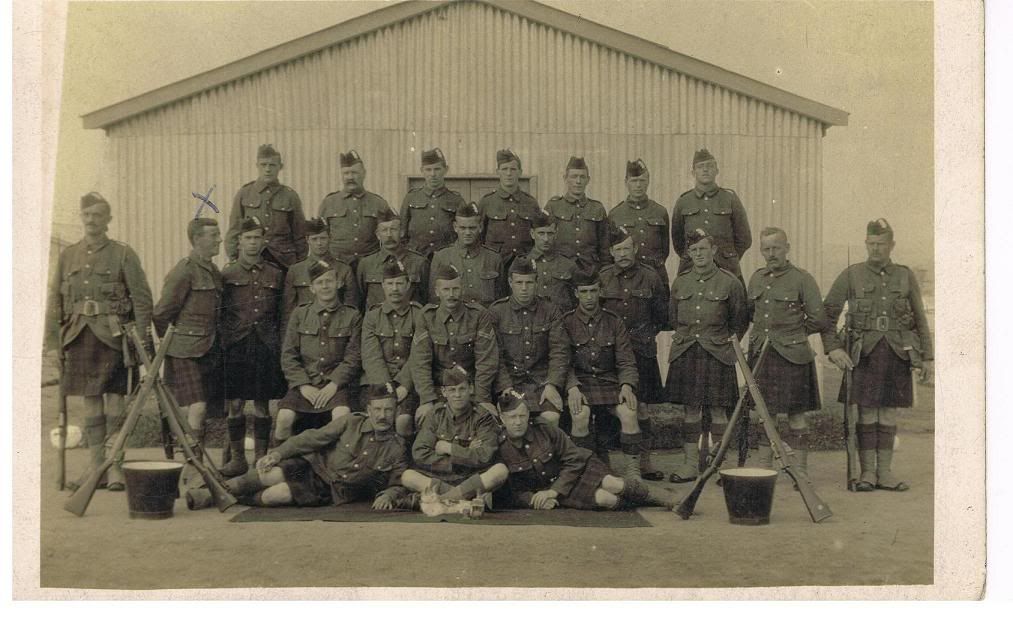 David at Bordon Camp, June/July -1915. Some family member put an 'X' above his head.
This letter, which seems to have the last page missing, was written just after a large scale manoeuvre of the various training companies. David was sick with a cold and 20 days and nights in the open without cover in constant bad weather, together with lack of sleep and cancellation of the company's promised leave, due to the fault of another previous training company, all contributed to a rather depressed looking letter. You will note that David was a Lance-Corporal, which the manoeuvres had shown him to be a bad choice ! In the Army's levels of delegation, L/Cpl was the lowest level of command above private all the unpleasant jobs were unloaded onto them by Corporals and above, hence the lack of sleep, constant rounds of checks on the men and general desire to hand back the stripe at the earliest opportunity.
David was wheeled in front of the training company commander Captain Hamilton-Johnston who tried to put him off handing in his stripe, but when David insisted, the captain said he would see what he could do and come back to him. As of 1917, David was still a lance-Corporal !
David was further peeved that it looked like he was being selected for a future training role based at Aldershot, rather than being on active service with the battalion. At the end of the existing letter he made it clear he would apply for apply for active service in the trenches as soon as his leave was over. It worked. By mid-October 1915, David was in a trench near Hill 60, Zillebeke, Ypres Salient sector. He was in his new home, No 5 Platoon, B Coy, 8th Batt Black Watch.
The date of this letter is significant as, unknown to David and his chums in Bordon, one day before, on 25th September 1915, 9th Scottish Division and other Kitchener divisions had their major baptism of fire in an offensive launched against Loos and environs in the Artois mining region. The 9th Scottish Division was tasked with capturing the formidable Hohenzollern Redoubt and supporting trench systems and features such as the Dump and The Quarry. Though successful initially, over the next five days, they suffered horrendous casualties and were eventually replaced by another fresh division. The 9th Division lost its commander Gen Thesiger and the 8th BW lost many officers and men, including Captain Fergus Bowes-Lyon, brother of the (now deceased) Queen Mother. The remnants were withdrawn and sent to the relatively quiet Ypres sector (near Zillebeke) to re-build. That's when David joined them from the UK.
As for Captain Hamilton-Johnston, he had joined the 2nd Black Watch (Regular Army)as a 2nd Lieutenant from Sandhurst in 1909. The battalion was stationed in India until Autumn 1914 when as part of an Indian division, it was sent to the Western Front as part of the beleaguered BEF. During the fighting of late 1914, he was wounded but not seriously. Promoted to 1st Lieutenant, was wounded at the Battle of Neuve Chapelle in March 1915 and sent back to the UK to recover. When fit enough, as Captain, he took command of the 8th Battalion BW's training company at Bordon. Like Great Uncle David, he left the training company in October 1915, in the Captain's case, back to the 2nd Battalion in France. That winter the 2nd Battalion and its Indian Division left France for Mesopotamia (Iraq) to join the British relief force trying to reach Townsend's surrounded force . On 23rd January 1916, Captain Hamilton-Johnston was killed in battle.
David stayed with 8th BW in the Flanders mud, then by early Summer 1916 the 9th Scottish Division moved to the Somme sector to prepare for the coming offensive. After the division captured Longueval and Delville Wood which left 8th BW with 171 survivors out of 739 who started the week-long attack, the battalion received replacements in time to attack the Butte de Warlincourt in October. In winter 1916-17, strengthened with replacements again, the division moved to the Arras sector where in April it took part in the initially successful spring offensive. On 3rd May 1917, David was killed during a disastrous pre-dawn divisional attack on Greenland Hill, Roeux. He is remembered on Panel 6 of the Arras Memorial, one of 37,000 of those who died in the Arras Offensive with no grave.